Develop Cross-Border Financial Planning Skills with the Chartered Wealth Manager Course from AAFM®
Introduction:
The world is becoming increasingly interconnected, with many people leaving their home countries in search of better opportunities abroad. This presents unique challenges for wealth managers & financial planners, who must be able to navigate a range of issues related to financial reporting obligations, tax complexities, currency exchange, and retirement benefits when working with cross-border clients. This article offers a framework for financial advisors to classify the common issues that arise with inbound or outbound cross-border clients as a part of cross border financial advising.
Enquire now for CWM Program     Download CWM Brochure   
Cross Border Client Categorization
One way to approach the unique challenges of cross-border financial planning is to categorize clients based on their stage of transition when crossing national borders. This includes four stages: Pre-Move, Acclimation, Global Integration, and Retirement and Independence. Each stage presents specific planning issues, and identifying the stage that applies to their client can help financial advisors pinpoint their clients' current needs and anticipate what they may require in the future.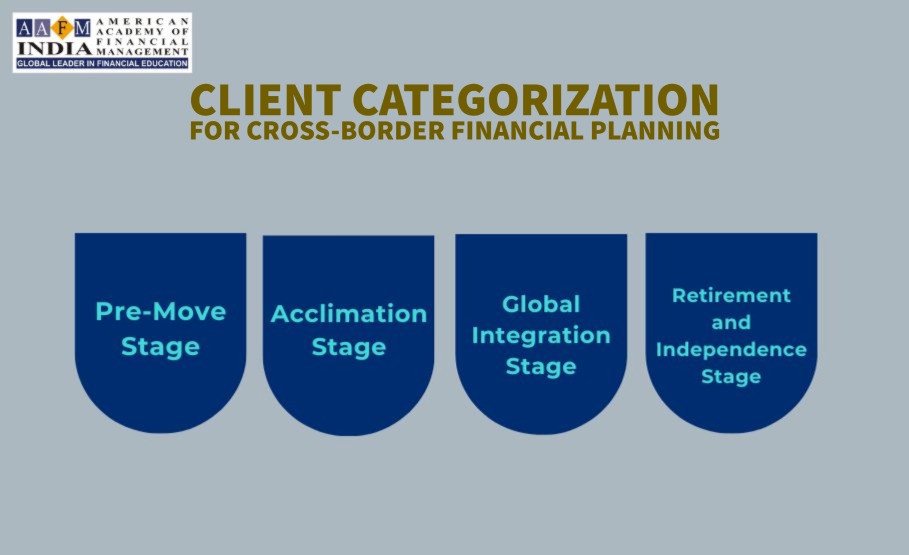 Client Categorization for Cross-Border Financial Planning
Pre-Move Stage:
Clients in the Pre-Move stage require guidance with essential immigration logistics, pre-move planning, banking arrangements, and cash management. Advisors also play a role in addressing family-related concerns, including identifying education standards for children, exploring work opportunities for spouses, and assisting other family members.
Acclimation Stage:
Clients at the Acclimation stage seek assistance with navigating worldwide tax complexities and establishing or transitioning their retirement plans to align with their new international circumstances.
Global Integration Stage:
For clients entering the Global Integration stage, advisors focus on longer-term immigration planning, as well as coordinating and strategically allocating their assets across borders to ensure financial optimization.
Retirement and Independence Stage:
In the Retirement and Independence stage, clients require standard planning services such as retirement and estate planning. However, advisors must possess an understanding of the international nuances within these areas to effectively guide their clients.
Categorizing clients into these stages offers financial advisors a structured approach to addressing their distinct needs throughout their cross-border transitions.
Enquire now for CWM Program     Download CWM Brochure   
Critical Considerations in Cross Border Financial Advising
There are several key considerations for advisors to be able to offer the best cross-border financial planning services to international clients. Let's take a look at some of these factors.
Financial Planning Goals and Tax Implications:
Advisors must understand clients' intended duration in the destination country, grasp both US and foreign tax implications tied to income sources (including capital gains), and be familiar with foreign investment protocols and performance reporting. Additionally, advisors need to anticipate account transfers necessary for clients.
Compliance and Risk Mitigation:
Advisors should be versed in Foreign Bank Account Reporting (FBAR) requirements and potential penalties connected to Passive Foreign Investment Corporations (PFICs) that could impact their clients. It's essential to mitigate compliance risks while optimizing financial plans.
Resources and Services:
Advisors should be capable of identifying suitable products (e.g., life insurance, disability insurance, investment funds), connecting clients with appropriate broker-dealers or custodians, and facilitating expert assistance when specialized services are needed (e.g., international tax planning professionals, estate planning attorneys).
Regulatory and Operational Understanding:
To serve international clients effectively, advisors need to comprehend foreign countries' regulatory and licensing prerequisites. A review of Errors & Omissions (E&O) coverage ensures adequate protection for unique international planning needs, like foreign securities trading.
Choosing Appropriate Advisory Model:
Additionally, advisors might need to adjust their business models to ensure they are servicing their international clients most profitably, as the traditional AUM model may not always be the best solution for the advisor.
Product and Service Challenges:
Identifying suitable products and service providers can be challenging due to limited means available to vet such options. Advisors must navigate this challenge while ensuring client needs are met and maintaining the integrity of their advisory services.
How to Develop Cross Border Financial Advising Skills?
There are resources available to help advisors serve international clients effectively, financial advisors looking to expand and hone their knowledge in cross-border financial planning may consider pursuing the Chartered Wealth Manager (CWM®) certification offered by the American Academy of Financial Management (AAFM®). This program covers topics such as global economics, cross-border tax planning, international estate planning, and asset protection, among others. The CWM® curriculum helps advisors develop the necessary skills to effectively serve international and cross-border clients, making it a valuable credential for those looking to specialize in this area.
Enquire now for CWM Program     Download CWM Brochure   
Key Challenges in Cross-Border Financial Planning
Cross-border financial planning can be complex and challenging for financial advisors. Some of the key challenges that advisors must be aware of include:
Tax Complexity:
Tax laws and regulations vary widely across different countries, which can create complex tax planning challenges for advisors with cross-border clients.
Currency Risk:
When clients move money between countries or invest in foreign currencies, they are exposed to currency risk. Advisors must understand how to manage this risk to help their clients achieve their financial goals.
Regulatory Compliance:
Advisors must comply with regulations in both the client's home country and the country where they are located. This can be a challenging task, especially if the advisor is not familiar with the regulatory environment in the client's home country.
Cultural Differences:
Cross border financial advising requires professional advisors to be sensitive in dealing with cultural differences when working with cross-border clients. Understanding cultural norms and expectations can help advisors build stronger relationships with their clients and provide better service.
The Benefits of Cross-Border Financial Planning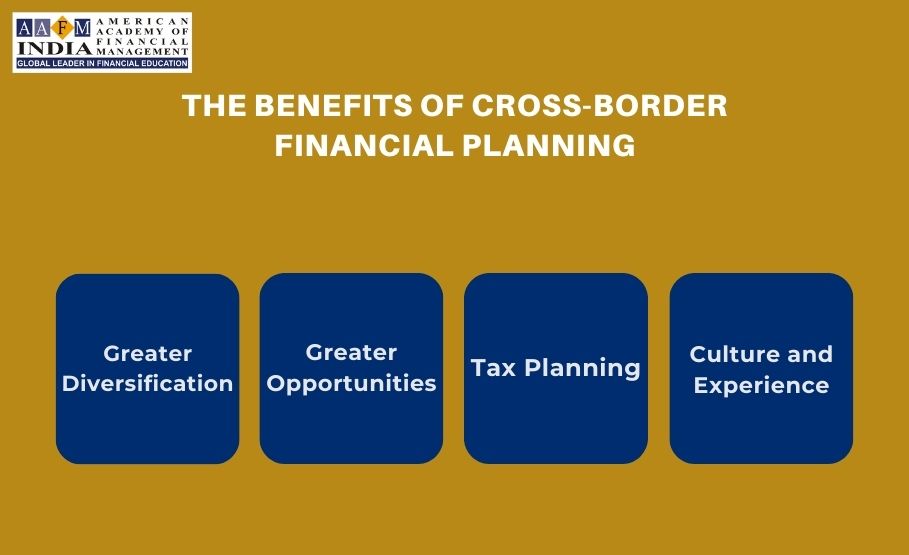 While cross-border financial planning can be complex, there are also a number of benefits to working with international clients. Some of the key benefits of cross-border financial planning include:
Greater Diversification:
By investing in assets in different countries and currencies, clients can achieve greater diversification in their portfolios. This can help to reduce risk and enhance returns.
Greater Opportunities:
Investing in assets in different countries and currencies can also create opportunities for clients to access markets and investments that may not be available in their home country.
Tax Planning:
Cross-border financial planning can help clients to optimize their tax planning, taking advantage of tax laws and regulations in different countries to reduce their tax liabilities.
Culture and Experience:
Working with international clients can also provide financial advisors with a greater understanding of different cultures and investment environments. This can help advisors to expand their knowledge and experience, which can ultimately benefit all of their clients.
As the community of expats continues to grow, financial planners may find it worthwhile to establish competency in cross-border financial planning to better serve their clients, regardless of their location.
Enquire now for CWM Program     Download CWM Brochure   
Summing Up:
In conclusion, as the world becomes more interconnected, mastering cross border financial advising has emerged as a prized choice of specialization for advisors. The Chartered Wealth Manager (CWM®) certification offered by AAFM® equips advisors with skills to navigate complexities and offer effective solutions. Despite challenges like tax variations and cultural differences, the benefits of cross-border financial planning, including diversification, unique investment opportunities, and enriched expertise, make it a crucial specialization for modern financial advisors.