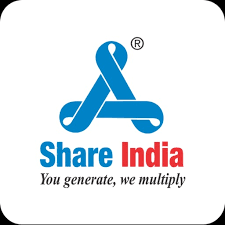 Share India Securities Limited
Noida – www.shareindia.com – 05/04/2022
Salary – Upto 3.4 LPA & above
Job Title
Management Trainee – Finance Executive
Company Profile
In the year 1993 Share India implants its feet into the financial market, since then the Group has followed a consistent growth and is established as leading broking house in India that provides best value for money through personalized services nationwide to a substantial & diversified Client base that includes retail as well as corporate clients. Our expertise in serving our clients to their objectives has earned us the trust of our clients in the financial sector. Share India's strength lies in its firm commitment to "you generate, we multiply" through a transparent, clear, honest and customer- centric approach.
Job Profile & Responsibilities
Actively trade options across Indian markets in strategy like butterfly , Box, IV , ratio.

Applying a strategy and running it successfully on Greek, Omnesys etc.

Trade on options trading desk and manage a dedicated P&L- Exposure to delta, Gama, Vega, theta spreads.

Introduce new trading ideas and develop new trading models.

Collaborate with team of traders to synergize trading strategies.

Work with the Manager to implement and test trading strategies.

Analyze trading performance and recommend improvements.

Help manage and coach a growing team of traders.
Collaborate with developers to update and refine algorithms.
Preferred Qualifications
MBA-Finance Fresher's with the Knowledge of Financial Products.
CWM Certification would be an added advantage.
Desired Candidate Profile
Should have good communication skills and willing to work hard.
Should be proficient with MS Office( Mainly the Excel and the Word).
Excellent numerical skills.
Ability to take risk and confident to perform the trading activities.
Decisiveness under great pressure.
Additional Details
Job primarily involves Algo Trading/HFT in various derivatives products, more specifically vanilla and advanced options strategies. Good understanding of basic concepts of derivatives & application of mind with strong analytical skills required.