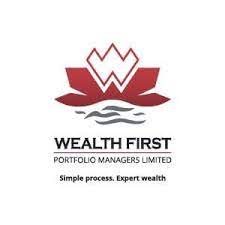 Wealth First
Pune, Ahemdabad – www.wealth-firstonline.com – 06/01/2023
Salery – Range
Company Profile
We have pleasure in introducing ourselves as Wealth first a Company that provides onestop-solution for financial assets investment management. Our compressive service basket includes Investment strategizing, Asset research, Asset allocation, Tax Planning, Broking Service, Treasury management, Risk management and retirement planning. These services are catered to by an inclusive range of products such as Direct Bonds-taxable, tax-free, Government securities, Mutual funds, Fixed deposits, PMS, Direct Equity and Pension Products. Our 30 years of experience is invested in ensuring consistent growth of our client's investments and that's why WEALTH FIRST is considered as one of the most trusted client centric financial asset management advisors in India.
Job Profile & Responsibilities
Acquire new clients through various sources.
Generate new business using existing and potential customer networks. (References).
To organize IAP through reference incorporates and generate new clients.
Interview clients to determine their current income, expenses, insurance coverage, tax status, financial objectives, risk tolerance, or other information needed to develop a financial plan.
Analyze financial information obtained from clients to determine strategies for meeting clients' financial objectives.
Answer clients' questions about the purposes and details of financial plans and
strategies.
Implement financial planning recommendations.
Explain to clients the personal financial advisor's responsibilities and the types of
services to be provided.

Review clients' accounts and plans regularly to determine whether life changes, economic changes, environmental concerns, or financial performance indicate a need for plan reassessment.

Manage client portfolios, keeping client plans up-to-date.

Contact clients periodically to determine any changes in their financial status.

Analyze financial data received from clients to develop strategies for meeting clients'
financial goals.

Advising strategies for clients in insurance coverage, investment planning, cash
management and other areas to help them reach financial objectives.

Prepare or interpret for clients information such as investment performance reports,
financial document summaries, or income projections.

Managing and updating client portfolios.

To email monthly portfolio performance report along with comments to each client.

Build & maintain client database with A/B/C Analysis.

To maintain/modified data of each client on regular basis at wealth first web site.

Impersonal verification should be done in front of client.

To update daily sales dashboard & report.

To keep record of minutes of meeting with clients.
Preferred Qualifications
Graduate/Post Graduate.
CWM certification would be an added advantage.
Desired Candidate Profile
Should know how to monitor financial market trends to ensure
that client plans are responsive.
Investigate available investment opportunities to determine compatibility
with client financial plans.
Keep yourself updated with latest financial trends, economic/market changes.
Keeping up-to-date technically and apply new knowledge to get better output in your
work.
To clear necessary exam & also clear exam for renewal of certification needed for your profile.